Single app for all user-types: Teachers, Students; Parents
Teachers can take attendance, students can view timetables, parents can view attendance, principal and admins can send messages & announcements, etc. using the same app.
Though the traditional login mechanism with the username and password is preferred by the majority of users; the One Time Password (OTP) login via SMS and Emails is favored by all the app users. We have incorporated both of them in the school mobile app to choose the one that suits you the best.
Fedena School Management App is the best mobile app solution for schools and colleges. It consists of amazing features such as attendance tracking, conduct online examinations, visitor management, timetable monitoring, all can be managed just in a single click. School admin can easily collect fees and track fee defaulters from anywhere at any time. Additionally, institutes can customize the app pages and track various school-related activities on their mobile devices.
In a nutshell, Fedena School Management App is a one-stop solution that streamlines the institute day to day functionalities and reduces the communication gap among all the stakeholders. Try a free demo of the Fedena mobile app today!
Here are some of its features.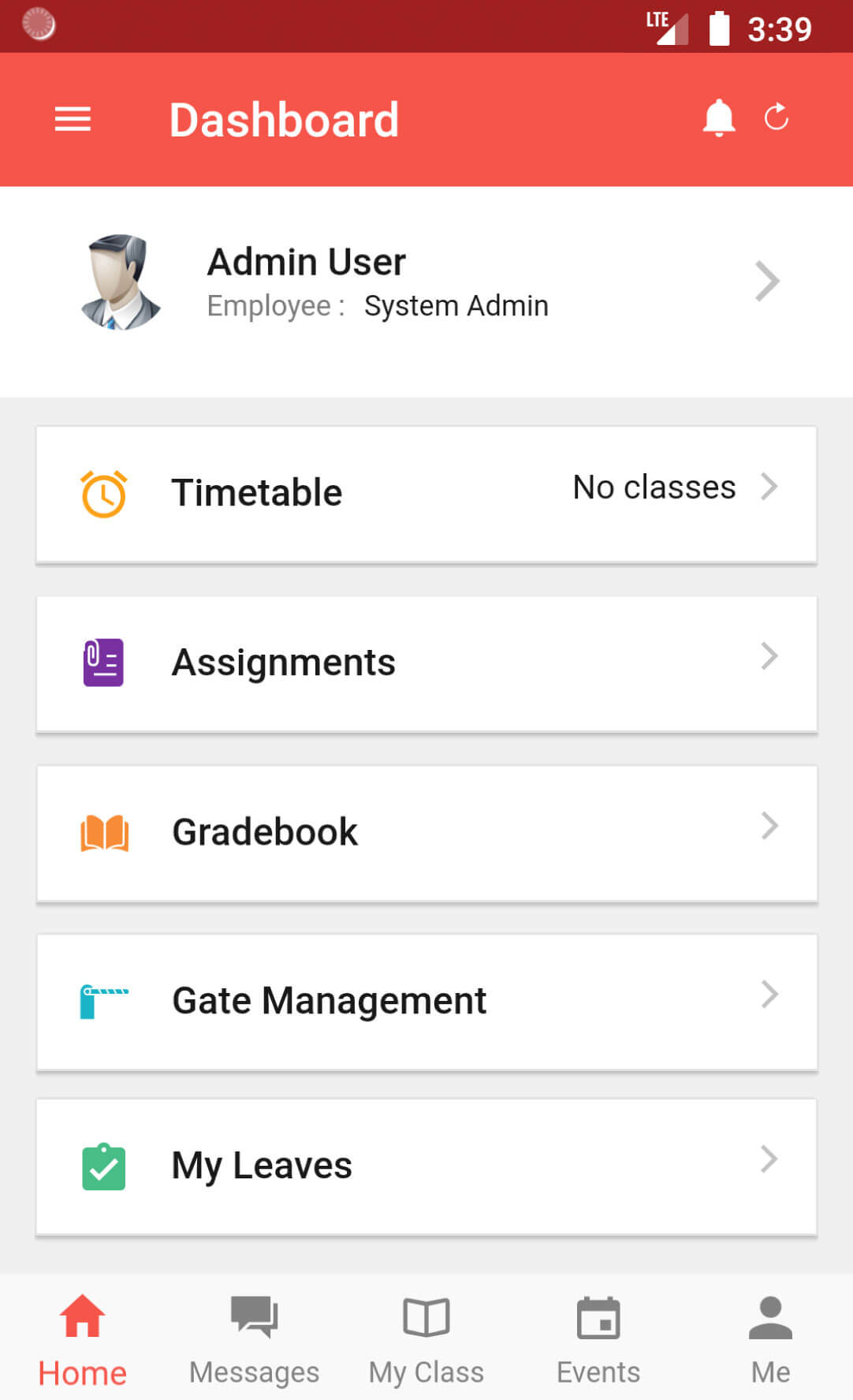 Online Exam Management
Students can easily attend the online exam, test series & mock test from their mobile devices.
Once the examination is scheduled, students will receive an instant notification and at the scheduled time student can appear for the test from their mobile/tablet devices.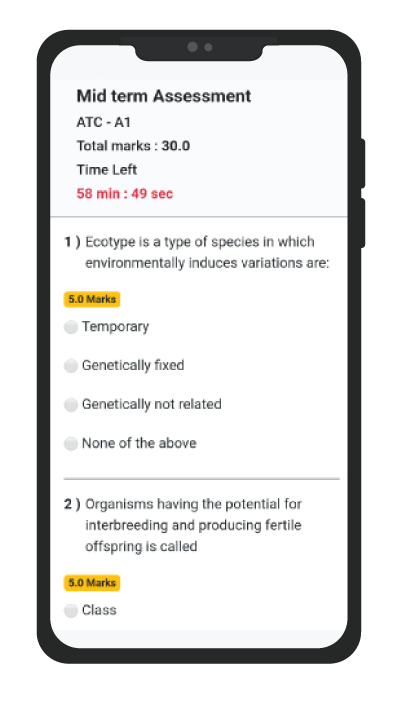 Gate Management
Record the entry and exit of different users from various locations of the institution
Privileged employees can access the reports in graph and tabular format
There are three types of actions
User Entry – To create new student and employee entry records
Gate Pass – To create new student and employee exit records
Visitor Pass – Manage the entry of outside visitors or guardians of existing students
Also, view the exam results in the mobile app itself.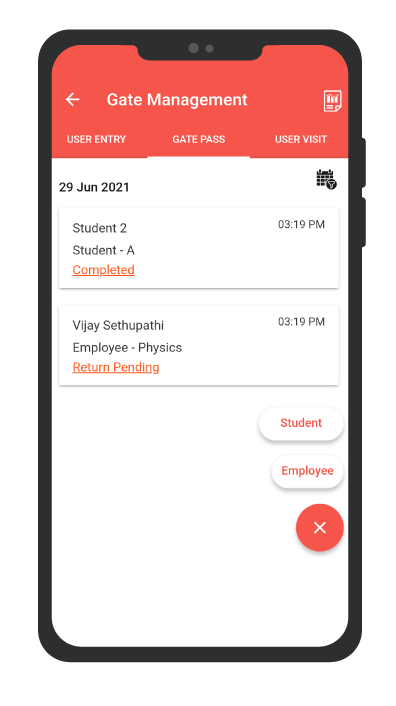 Attendance Management for Students & Teachers
Track and mark students' attendance in no time.
Employees can request leave directly from their mobile.
Easily extract attendance report academic year wise
View Student profile & Batch details –
Student List, Batch Timetable,
Batch Attendance Overview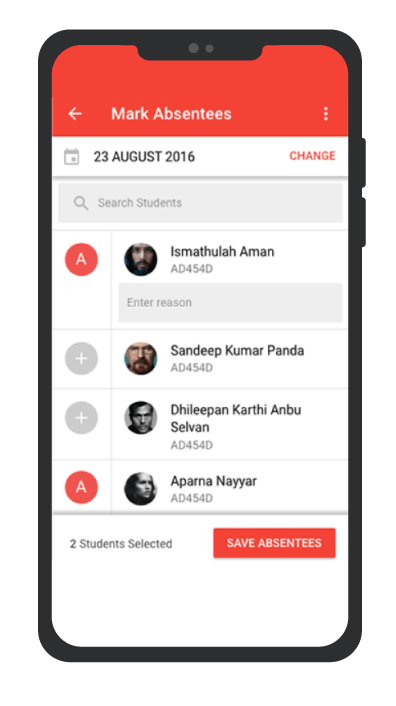 Online Assignment Management
Create the assignment and distribute it to the whole class or a group of particular students
Track the assignment publish date and user details via assignment log
Students can submit answers also view pending and submitted assignments, submission details, and marks obtained in each assignment.
View on assignments status via Graphical and Tabular Reports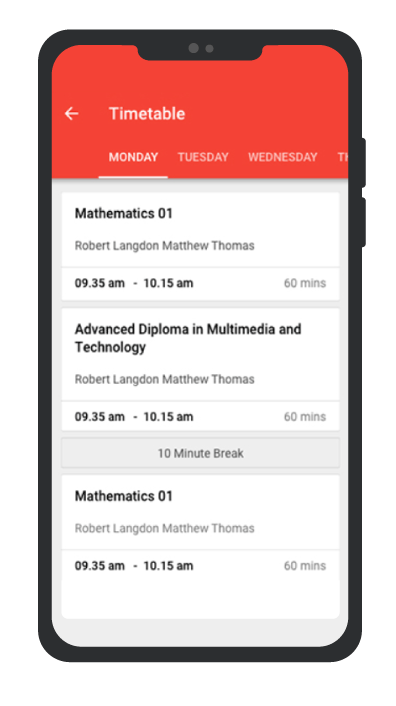 Simplify Online Fees Management
The fees section is the most important part in a School Management ERP. When you can do everything else through the app, wouldn't it be nice if you could pay the fees also through the app? Online fees payment would be a real icing on the cake when using the school's very own app. So we have accommodated this use case too, by providing a payment option for the Parents in the app Itself
Parents can view & pay fees online from anywhere at anytime
School Management can easily track the fees defaulters or check pending fees in a single click.
Check Current Timetable & Upcoming Classes on the Go
Parents can view their child's timetable schedule & subject teacher list on a single screen.
View your student's timetable of the day
Teachers' can view their upcoming classes and plan their day effectively.
Parents can switch among different profiles while being always logged in to the app.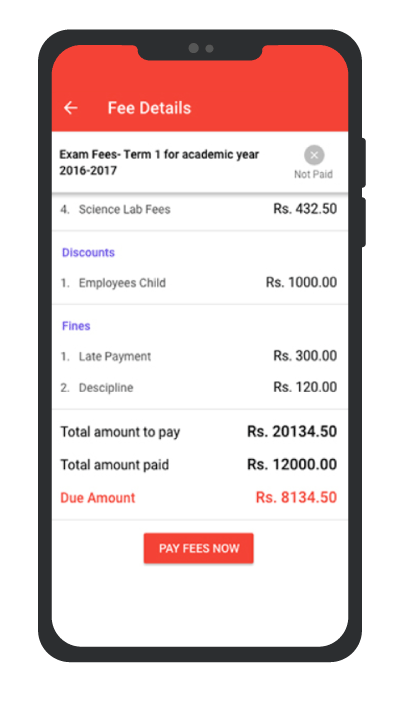 Fedena Connect Mobile LMS App for iOS & Android
Get mobile learning even further with Fedena Connect App!
What is Fedena Connect LMS App?
Fedena Connect App for LMS is a mobile learning application to start eLearning fast and let the students take courses on the go. manage teachers and parents to have updated on the students progress. The app was based on the idea of the frequent presence of modern users on the mobile platform.
The app gives full control over its branding and pricing, making it accessible from both iOS and Android systems.
Take a look at the Fedena Connect App to discover the best learning software to increase the knowledge. Use any mobile devices to deliver online courses and training.
Why Are Learning Apps Good For Education?
An open, intuitive and extensible tool that was born to make personalised learning simpler, more effective and connected. Both teachers and students are going to love the app supporting the learning ecosystems.
Availability
The software is optimised for iOS and Android system based devices including different types of them like smartphones and tablets for exceptional user experience.
Convenience
With the app, the favorite courses are accessible for students anytime from anywhere. A complete learning system in their pocket and courses to take on the go. Couldn't be more convenient.
A constant access to training materials allows students to study not only when they have a possibility but everytime they want to. Taking a course online doesn't require anything just student, a phone and the right course, that can be found in Fedena Connect LMS App.
To keep learners from getting bored, deliver the content in less volume. Push the short doses of learning materials each day to get your students into a habit encouraging them to study more.
Studying materials divided into smaller parts contribute to the effective storage and assimilation of information. Learning becomes easier, more interesting and more productive.